HANDING IN YOUR NOTICE – A GRACEFUL RESIGNATION GUIDE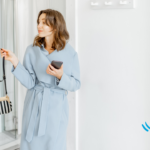 After finding your dream job, securing a great interview, and securing a fantastic offer, it's time to hand in your notice. This graceful resignation guide will ensure that you make a professional exit without tarnishing your reputation or burning bridges that you might need late in your career…
Giving your notice is never easy, especially when you've found a new job and want to keep in touch with your old colleagues. It is especially challenging if you have worked in a business for some time. We don't like to feel that we've let people down or misled them by searching for a new role behind their backs.
Follow this simple graceful resignation guide to keep your relationships and networking opportunities open. You'll be able to move on with your career knowing you've done everything right, and not left on a bad note.
CHECK YOUR NOTICE PERIOD FOR A GRACEFUL RESIGNATION
In your original employment contract, you will be given a notice period that you can clarify during your notice meeting with your line manager. You should expect to work your full notice period, so don't tell your new employer that you can start earlier than the current employer contractually requires.
WRITE A LETTER OF RESIGNATION: STEPS TO ACHIEVE A POLISHED TRANSITION
The first step is to write a resignation letter. The following information should be included:
1. Your intended submission date
2. Name of your line manager (or whoever you are addressing the resignation to)
3. Your current employer's name and address
4. As determined by the notice period in your contract, your last day of employment
5. Your full name and signature
Include a few lines about why you've decided to move roles and thank your employer for their support. This part is not mandatory, but we recommend that you include it if you want to maintain good relations. In the tech community, you never know when your paths may cross again.
Please do not send your resignation letter via email before speaking with your manager face-to-face.
You should not use your resignation letter to air your grievances or complain about your coworkers. The exit interview is the best time to address any issues you wish to raise. In any case, make sure you do this in a constructive manner to avoid burning bridges.
BOOKING IN THE MEETING
Get in touch with your boss and schedule a meeting. You should do this as soon as you accept your new employer's offer. You want to be as courteous as possible and will also will need to start your notice period in a timely manner.
Are you considering sending your notice via email? Please don't… This is an important conversation between you and your employer, and you owe them a face-to-face meeting. When working remotely or at a different location, you should schedule and conduct a video call before sending your resignation letter.
Give them plenty of time to adjust to the news, and thank them for giving you this opportunity. Please let them know it was a difficult decision and that you appreciate their help.
DURING THE MEETING: NAVIGATING A PROFESSIONAL RESIGNATION CONVERSATION
A positive attitude is key to a successful resignation meeting. As with your resignation letter, do not use this meeting to air your grievances. It is a time to express your gratitude for the opportunities you have been given.
Offer to help with the transition during the meeting. It may include finding a replacement, training them, and taking on other tasks to ease the transition. By doing this, you show your commitment to your job and team, and you will help ensure their success.
WORK YOUR FULL NOTICE PERIOD: ENSURING A GRACEFUL TRANSITION
Ensure that you carry out the handover with a colleague, if not your direct replacement, to the best of your ability. You're going to be starting a new job yourself, and a good handover will make your initial time in your new role much easier. So be sure to give your current employer the same courtesy. Additionally, you may be expected to attend interviews, which is in your best interests, as it will help you maintain good relationships and maintain your reputation.
After you give your notice, you might feel a little less motivated than usual. However, don't wait out your remaining days watching the clock. It is guaranteed to burn bridges and tarnish your reputation with the business if you leave your team with a massive workload of incomplete tasks. You might regret this in the future.
DON'T FORGET TO SAY GOODBYE: PARTING WORDS FOR A GRACEFUL RESIGNATION
Last but not least, be sure to thank your colleagues when you leave. Thank them for the experience, and let them know you're looking forward to staying in touch. I will continue to share ideas and knowledge, be available for advice and support, and stay connected in the tech community.
Following this graceful resignation guide will enable you to leave your job with professionalism while maintaining good relationships with your former colleagues and boss. By doing this, you will not only keep networking opportunities open but will also ensure a smooth transition to your new job.
For more career advice, check out some of our other blogs, including:
Preparing for a face-to-face interview
Choosing between multiple job offers